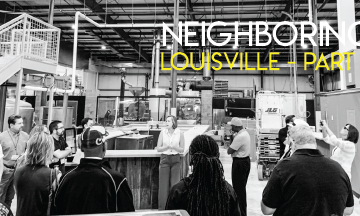 Part 2 of this podcast talks to all the members from part 1 about their post-event experiences. A couple of interviews were done right away on the way home, some within the next couple of days, and another at least a week after we returned. Needless to say, we were all taking in a lot of information and finding the aspects that really spoke to us along the way.
Like any trip where you spend a limited time learning a lot about what is happening, you don't get all the nuances that were part of the multi-year or multi-decade process to get where they are. However, I think that's ok. We need inspiration and those little nuggets of information that have been missing from our knowledge bank that we pick up throughout the conversations. I think you hear that throughout this recap podcast.
Here are a few themes that stand out:
Innovative financing - We heard about a number of different ways developers are funding their projects as well as a few financial institutions that are creating equitable funding projects to help.

Demand for Collaboration - We always need more collaboration and these trips emphasize that. Any time you put 50 people together for 36 hours, you'll see the energy that has been missing that can only be found by being with one another. Collaboration only can be done by being in relationship and proximity with one another.

Unified, Known Story - Everyone we met seemed to tell the exact same story about Louisville's history, both good and bad. Racial disparity has happened in every city in the nation and red lining was something that happened. Louisville owns that history and mo many other aspects of their unique experiences, which has helped them find a common ground to move forward on.

Data Helps, A Lot - Researched data is vital to justify any socially driven initiative. When the stories of marginalized neighbors and neighborhood injustices don't move the needle, data that tells the economic impacts of doing or not doing projects, does. You have to develop the data to attract funders because you can't expect them to do it for an area they're not necessary looking at. Lead with emotion, follow up with logic.

More Listening - Goodness, we need to spend more time listening to the needs and desires of our neighbors in the neighborhoods we want to improve. We have grand visions, but do they match those they impact? If they don't, what do we do then? If we think we're listening, then double down and meet with twice as many people.

Mayoral & City Support - There was a lot of energy and reflection on how unified the City of Louisville was on focusing on neighborhood development or redevelopment from the top down.

Sit In The Tension - We have a lot to learn as we work on our listening skills to become comfortable with the uncomfortable and to sit in the tension that comes up. This is hard work with deep seated reasons why it's hard. Sitting in the tension in order to learn is only going to help us become better leaders and developers.
Personally, there are a handful of things I reflect on in conversations with everyone, especially during Ellen Cutter's segment. This is all hard work and work that despite our best efforts may only be marginally beneficial. However, I think it's important that we all continue to figure out how to bridge the gap between the haves and have nots, and any time we can gain inspiration by others in the margins with us, then we should.
I met some incredible Fort Wayne folks on this trip that I look forward to continuing building relationships with and engaging some of the lessons above myself.
Huge Thank You to These Participants: 
Denita Washington - Adams Township Trustee
Alison Gerardot - Community Foundation of Greater Fort Wayne
Savannah Robinson - YLNI 
Ellen Cutter - Greater Fort Wayne
Michelle Chambers - City Council Hopeful 
Links to the Organizations We Met With
Russell Promise - https://russellpromise.com/
Louisville Forward - www.louisvilleky.gov/louisvilleforward
Access Ventures - Several Projects - https://accessventures.org/
NULU Neighborhood Walking Tour - https://www.gotolouisville.com/neighborhoods/nulu/
SmokeTown Tour - https://explorekyhistory.ky.gov/items/show/821
Butchertown Market Tour - http://thebutchertownmarket.com/
Portland Neighborhood Tour - http://www.portlandlouisville.com/
Rabbit Hole Distillery Tour & Reception - https://www.rabbitholedistillery.com/
Harvest Restaurant - Local Business - http://www.harvestlouisville.com/
Chef Space - Kitchen Incubator - https://www.chefspace.org/
Park DuValle Revitalization - http://www.lmha1.org/hope_vi/park_duvalle_revitalization.php