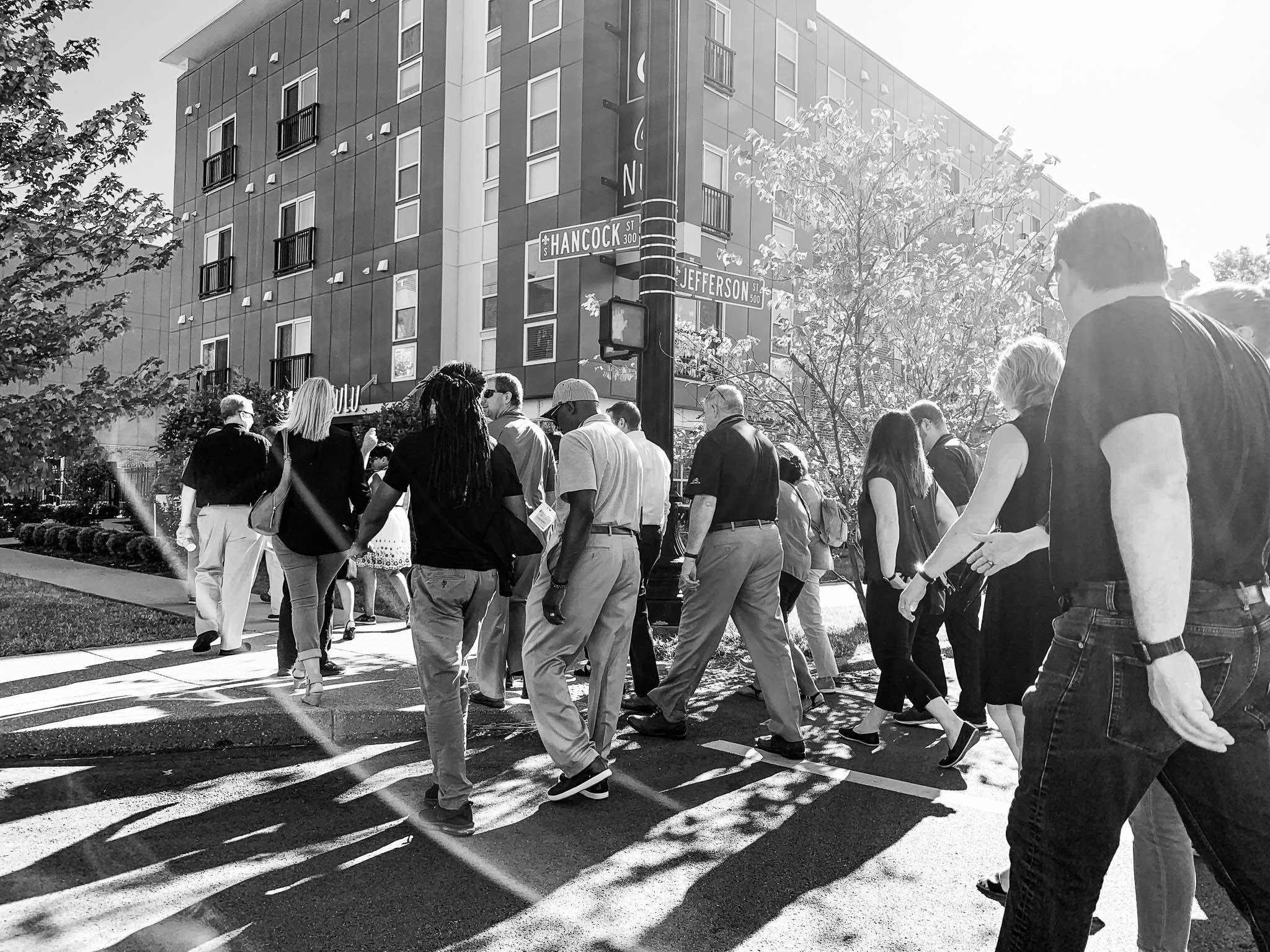 Huge thanks to the Community Foundation of Greater Fort Wayne who invited and sponsored me as the director of NeighborLink to go join Greater Fort Wayne's inner city to Louisville, KY. Greater Fort Wayne has invited small groups of people to go all over the country to visit cities that have aspirational attributes related to what's happening in Fort Wayne for the past few years. Iowa, Detroit, North Carolina, and a handful of other places to see specific projects or see entire neighborhoods, like we did on this trip. The goal was to see community development in action across three main Louisville neighborhoods that sparked as downtown Louisville saw significant investment.
Because these trips are usually full of great people and really insightful conversations, I thought it would be fun to take the Neighboring Podcast on the road to spend some time interviewing a handful of attendees on the way there and on the way home. The most meaningful conversations we have are usually among ourselves as we process what we're learning and what we're dreaming about and rather than loose them to the trip, I attempted to gather bits and pieces to share with others that couldn't make the trip.
Part 1 of this podcast introduces you to these wonder people. They share about their current work, details about the trip, background on Louisville, and what they were eager to learn.
Ellen Cutter, VP of Economic Development at Greater Fort Wayne

Alison Gerardot, VP of Philanthropic Services

Savannah Robinson, YLNI President

Michelle Chambers, running for City Council at Large

Denita Washington, Adams Township Trustee
Part 2 next week will include debriefs from each person on what stood out to them after two days of meetings and conversations.
For me, I've been to Louisville a number of times the past few years as visitor but never on official business. I got a last minute invite to this trip and cleared my schedule to make it work because of the opportunity. I follow along with a few organizations in this city that I was eager to hear from and I'm always intrigued to learn how other cities are doing neighborhood development. I love to observe, learn, and process with people I know in an effort to be the best I can be at my job at NeighborLink.
As you listen, you'll be able to hear some of my anticipated learnings mixed into the questions and conversations. I knew a handful of folks on the trip before the trip, knew of many others, and met some new people that I've never met before. Any time 50 eager to learn individuals get on a bus together and spend two full days together, great conversations are bound to happen and they certainly did.