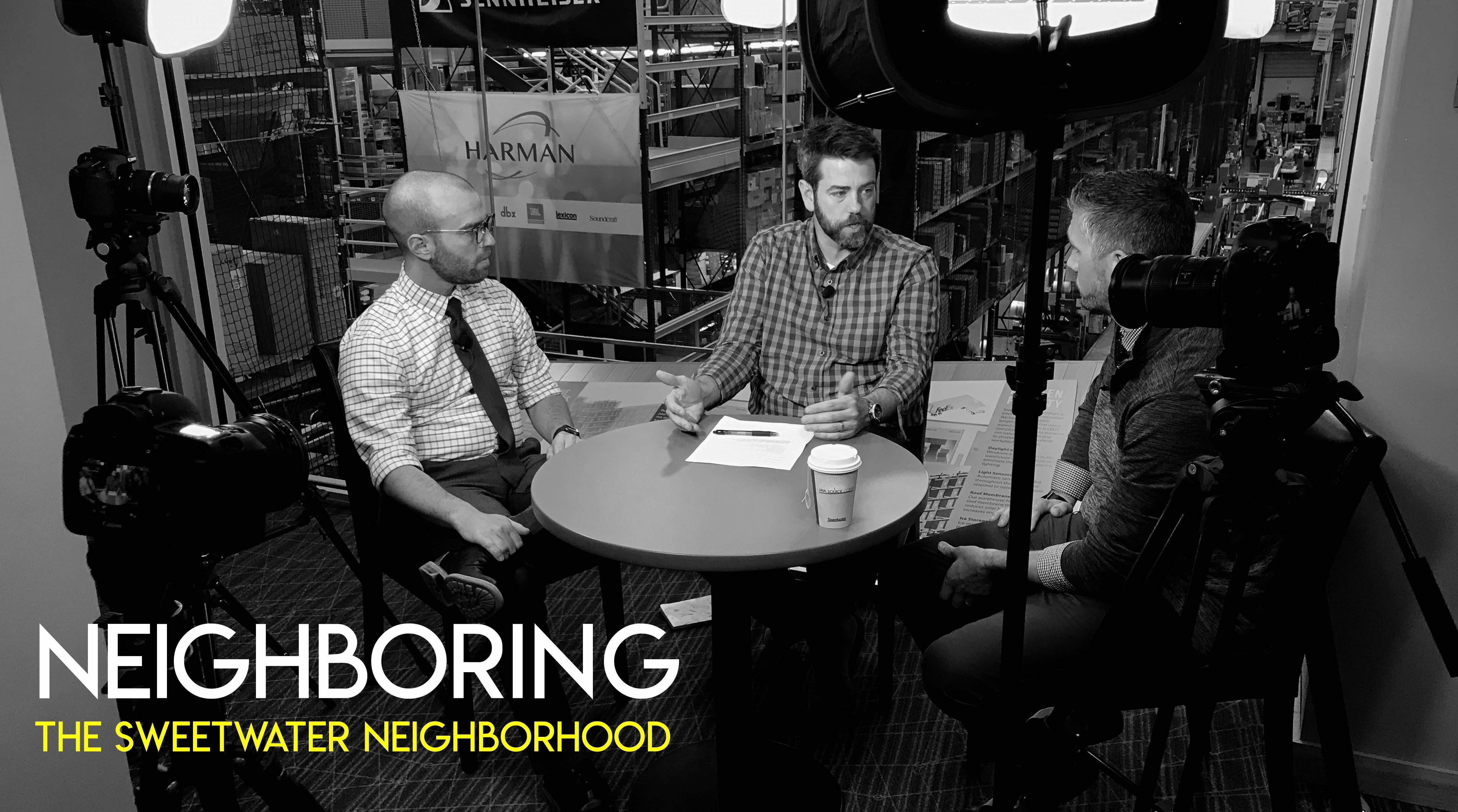 You can't go a week without hearing about Sweetwater in our community. Chuck Surack started a music recording business in his VW van and poured his life into building what is now the largest online retailer of music instruments and pro audio gear in the US. They experienced another record-setting year in terms of sales growth and job creation, adding over 400 new employees in 2018. Forty percent of those coming from outside of Fort Wayne, IN. There is a great press release outlining all the details of that growth here: Sweetwater Announces Another Record Year
Sweetwater isn't just getting attention because of their economic impact in our region. Chuck is one of the most generous businessmen in our area who invests millions of dollars into other community projects, a number of local businesses, and in hundreds of philanthropic efforts. He and his wife are extremely generous and care deeply about people, which was a motivator for this podcast .
Working with over 150 different groups of volunteers, many coming from the corporate world, NeighborLink gets a look into a lot of different organizational cultures over the course of the year. The reality is, all entities take on the life of the leader and reflect their values, good or bad. You would tend to believe that it would be hard to stay connect to the org culture when you have 1,500+ employees and more things trying to get your attention than you can keep up with. Somehow, Chuck is able to keep up with those right alongside his very competent leadership team. There is an ethos that runs deep in the culture that shows outsiders like me that this is an important place to work, and you want to take responsibility for its success as an employee. Many see it as an opportunity to be employed at Sweetwater, not just a job.
I first met Nate Edwards through a local church in a neighborhood where we did a lot of projects. His congregation was trying to figure out how to be more intentional neighbors and be a resource for their community. Nate is a dynamic and energetic guy who brings all that energy to all the things he's involved in, not just work. He also happened to have relocated to Fort Wayne to take a position at Sweetwater in the early 2000s when there was almost 200. He's now a manager in the sales department and we've developed a relationship over the years. He's been thinking critically about ways they do their work at Sweetwater and how it could impact NeighborLink. As we have these discussions, I learn a little more each time about how unique their culture really is.
One of the things I learned is that Sweetwater uses a "neighborhood" model for diversifying and building their teams of sales engineers and support staff. They've had this model for over 15 years and I was instantly intrigued because I've never heard of another business using a neighborhood model of connecting teams internally. Essentially, they break down all their employees into smaller groups of 10-12 employees with two neighborhood leaders in each group. These groups are made up of diverse backgrounds and employment duration in an effort to make what is huge, small. They've learned that relationships and creating small communities of people that have a shared vision will care for each other much better than keeping large numbers of people together. In addition to connecting their sales engineers and support teams together, they connect each neighborhood with a different division of the company, like distribution. Another way to encourage organization cohesion when division is natural.
Nate Burkhardt was recruited from a competitor and moved his family across the country from California to work at Sweetwater. That's a significant move and has more than just an economic impact on a family. Life is disrupted and starting new in a big company can be overwhelming, even if you're competent in the job. These neighborhoods allowed him to get connected inside and outside of work quickly. These neighborhoods support each other at work and create opportunity to be connected socially, including opportunities to be generous together. As you listen to the podcast, you'll hear Nate talk about how vital these neighborhoods are to the success of the company, but to each other.
Nate Edwards talks about having 25 new sales engineers start in his area each month, which is the kind of growth that feels like you're chasing after to keep up with. The neighborhood model allows new employees to be dispersed with other employees at various states of their journey, whether that's just a few months or a few years. From listening to these guys, it sounds like you're never alone and have all the resources you need to succeed if you want to on day one. There is nothing like starting a high intensity job and feeling like you've been thrown into it without help.
The operational impact of this effort is that Sweetwater has roughly 10% turnover rate in their sales team each year, which is unheard of in the sales profession, let alone in their industry. Investing in creating community, focusing on relationships, and supporting your people is worth every penny and moment of energy if I hear these guys right. There is a communal love for music, musical gear, and all the structure needed to keep you motivated and supported. It always comes down to people and Sweetwater is investing in their people.